At the WBU-ICEVI convention in Orlando, we had people from many countries stop at the booth to try our simulators. These pictures of conference delegates from Sri Lanka, Pakistan, and Malawi are used with their permission. Zambia Israel Mauritius Israel Kyrgyzstan Guinea India South Africa Japan China Senegal Ecuador Laos Thailand Korea Moldova Myanmar Nepal United Arab Emirates Mongolia Romania Zimbabwe Hungary Australia Norway Haiti Antigua England Canada Iceland Ireland Jamaica Ethiopia Argentina Cape Verde Chad Cambodia Philippines Turkey Vietnam Congo Dominican Republic Germany Lebanon Netherlands Congratulations to the World Blind Union (WBU) and the International Committee for Education of...
---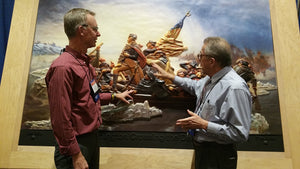 At the WBU-ICEVI Conference in Orlando, I got to see a 3D representation of "Washington Crossing the Delaware " created by 3D Photoworks. Co-founder John Olson showed me that, in addition to being tactile, there are numerous content specific, auditory items embedded in the work that are activated by passing one's hand over them. For example, when exploring the portion of the work that includes horses (background on right), a narrator explains the history of Washington's own horses and their relevance to the war. This was a very cool exhibit. For more information: 3D Photoworks
---

Fork in the Road will be exhibiting its low vision simulators at the 2016 World Blind Union - International Committee for Education of people with Vision Impairment (WBU-ICEVI) Joint Assembly in Orlando. WBU/ICEVI 2016 will bring together participants from around the world, making this an important venue for collaborating and networking around key blindness issues. WBU/ICEVI 2016 aims to improve the quality of life of those who are blind and low-vision by providing a common platform on which advocates, innovators, consumers, and service providers can expand both intra-regional and international networks, share information, and learn about new techniques and service...
---

Fork in the Road's owner, Marshall Flax presents information to help people know the difference between normal vision (including refractive error), normal vision as we age, and common diseases that should be addressed by an eyecare professional. He made a presentation at the Healthy Aging Fair (April 2016) sponsored by the University of Wisconsin-Madison School of Nursing's Center for Aging Research and Education. The title of his short talk that was aimed at older adults and their care providers, was "Vision and Aging: What's Normal, What's Not". Vision-Flax from UW School of Nursing on Vimeo.  
---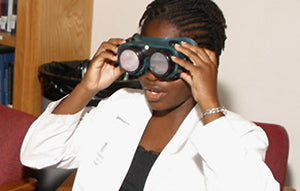 The Department of Ophthalmology and Visual Sciences at the University of Wisconsin - Madison uses a picture of our simulator on its education brochure.