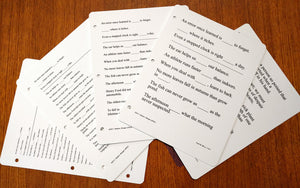 Low Vision Simulators
Morgan Low Vision Reading Comprehension Assessment
Regular price
$47.50
Sale price
$95.00
Unit price
per
The Morgan Low Vision Reading Comprehension Assessment is back! The assessment, originally printed in 1996, has been out of print but now joins the other LUV Reading Series materials published by Fork in the Road. The Morgan Low Vision Reading Comprehension Assessment (LVRCA) is a measure of reading comprehension that is designed for use with adults who have low vision due to macular degeneration. The test can be used to determine an approximate reading level in order to assist the professional in suggesting reading materials of appropriate difficulty for these readers. It can also be used to evaluate the effectiveness of instruction and/or practice in increasing reading comprehension. Potential uses for the Morgan Assessment:
an aid in planning individualized instruction
an objective measure of progress
a measure of the effectiveness of instructional programs
a measurement tool in research
See page 6 of the manual for more detailed information. The Morgan LVRCA consists of:
10 rigid test cards printed on non-glare polystyrene in four sizes: 1m,1.5M, 2M, & 3M. There are two equivalent forms of the test, A and B (pictured). The cards are pre-drilled for placing in a 3-ring binder or notebook, if the practitioner desires (notebook/binder NOT included).
The Instruction Manual (PDF) which should be downloaded from this website, contains information on the test development, instructions for administering and scoring the test, and suggestions for interpreting the results. Examiner's Answer Copies and Examiner's Scoresheets are also included in the manual.
FAQs
Q&A for these popular questions:
Will I receive a printed Instruction Manual when I purchase the Morgan LVRCA?
Answer: No. You can download the Instruction Manual from our website. All the forms needed are included in the Manual.
Does the Morgan LVRCA come in a binder or notebook?
Answer: No. The reading cards are pre-drilled for a 3-ring notebook/binder, but the binder is not included.
Where can I see what this assessment looks like?
Answer: There product image on this page is a picture of the reading cards. The text of the cards is accessible in the Instruction Manual.
Where can I learn more about the history and development of the Morgan LVRCA?
Answer: The Instruction Manual has a thorough history of the development of the Morgan LVRCA. You do not have to purchase the LVRCA in order to download the Manual.
Documents
Instruction Manual (.pdf)
Data and Score sheet (.pdf)
---
Share this Product
---